"Art Sparks is an exceptional multimedia approach to science and art, tapping into the creativity and imagination of young people. What a magical experience! It takes learning out of the confining niches of subject matter and shows us the interconnectedness of life and thought. Any school should implement this with success."
Susan S. Leonard, Academic Dean at the Birch Wathen Lenox School, New York, NY
Art Sparks: A Breakthrough Toolkit for Igniting Empowering Creativity, for ages 8-12, breaks new ground by providing a bridge between childhood ingenuity and personal growth. Three Big Ideas—Self-Worth, Creativity, and the Cosmos—intersect in this expressive arts program. An award-winning film with its implicit affirmation of human and non-human diversity complements the course.
Art Sparks yields proven powerful results. By holding space for agency, the program helps young people tap into their wells of imagination, experience their connection with the Cosmos, and energize their empowerment. The holistic curriculum strengthens emotional quotient (EQ) skills, including classroom engagement, verbal and visual communication, presentation skills, creative self-expression, and personal agency. Facilitating intentional acts of self-expression is the key to its success.
At San Miguel Academy of Newburgh, NY, a middle school for at-risk youth in New York, students invariably are surprised to discover their own artistic voices. One child said he learned he could express his feelings in art. Another who courageously painted himself crying a river of tears, later earned the school's annual award for character. Another transformed so dramatically from an anxious loner to a warm, relaxed student with greatly improved learning and social skills, that his teacher now calls him "the poster child for Art Sparks' therapeutic results."
Art Sparks has demonstrated noteworthy outcomes in private and public schools in the United States and Europe. From 2014-2019, Art Sparks took San Miguel Academy from STEM to STEAM. Art Sparks has been presented at the 2021 International Big History Association (IBHA), the 2019 international conference of the International Boys' Schools Coalition (IBSC), the 2013 national convention of the National Art Education Association (NAEA), as well as graduate programs at the Maryland Institute College of Art (MICA)—one of the country's premier art schools.
Art Sparks Creativity Program is designed for teachers, therapists, homeschoolers, and anyone interested in children's emotional health and wellness. The program can be adapted for different ages, and used in various venues, including school, after-school, and library programs; art and community centers; health and wellness settings; and museums and galleries. It can also be adapted to empower at-risk communities in community centers, ESL classes, immigration and juvenile detention centers, and youth and adult prisons.
Here are some sample Art Sparks' art activities:
.

Art Sparks' Color-Coded Table of Contents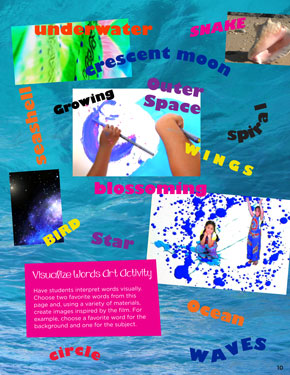 Visualize Words Art Activity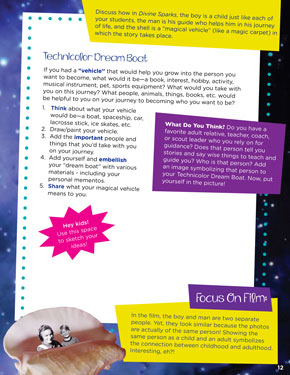 Art Sparks' Technicolor Dreamboat Art Activity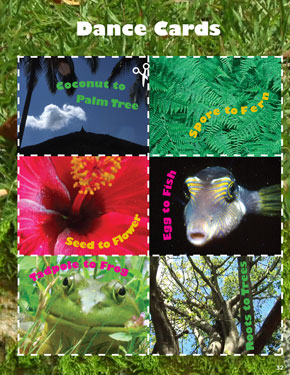 Art Sparks' Dance Cards for Movement / Art Activity about Growth